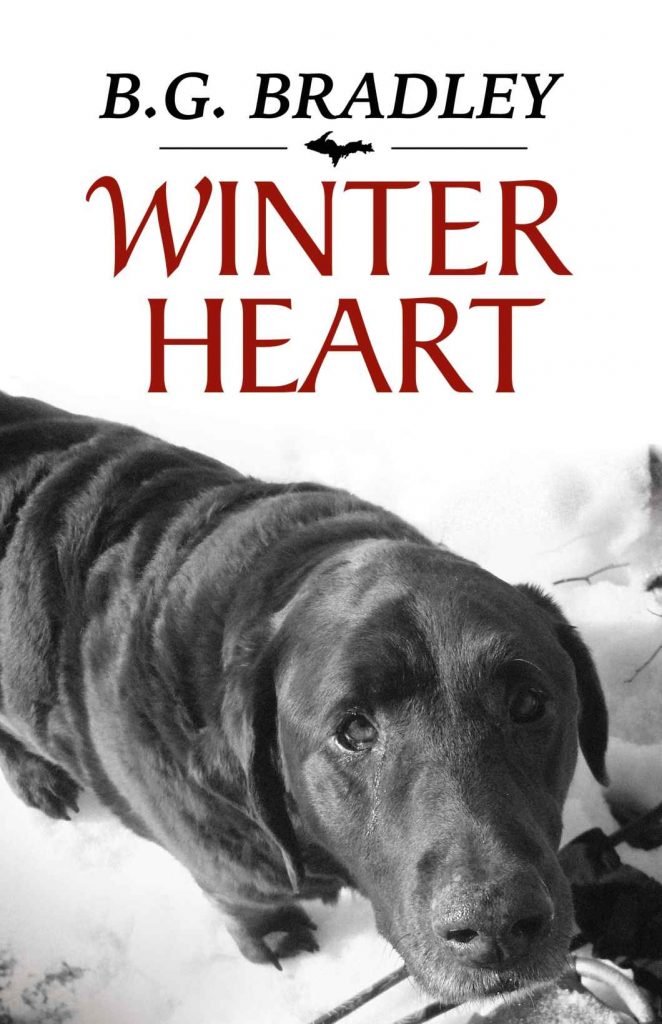 Ben O'Brian is lost.
He was once a poet, an educator, a husband, and a father. But now his career is over, his children are grown, and his beloved wife Grace has passed on. He's starting to think his best days are behind him. With his books and his faithful Labrador retrievers he has retired to his quaint secluded cabin on the shores of Hunter Lake, nestled in the heart of the great north woods of Michigan's Upper Peninsula.
But he is not alone in the world. Determined not to let him succumb to his own asceticism, Ben's family coerces him into joining his sister on a cross-country train trip to their brother's wedding. But things take an unexpected turn when Ben meets a mysterious, yet oddly familiar stranger along the way. Can the old poet find new love after all these years? All he needs is a little faith, and… Grace.
Winter Heart is one of those hauntingly earnest books that stays with you long after you've read the final chapter. Every place has a spirit – that's what I believe – and B.G. Bradley perfectly captures the spirit of the book's setting, the "U.P.", the upper peninsula of Michigan. I've never been to the U.P.! But I know with certainty what like is like there now.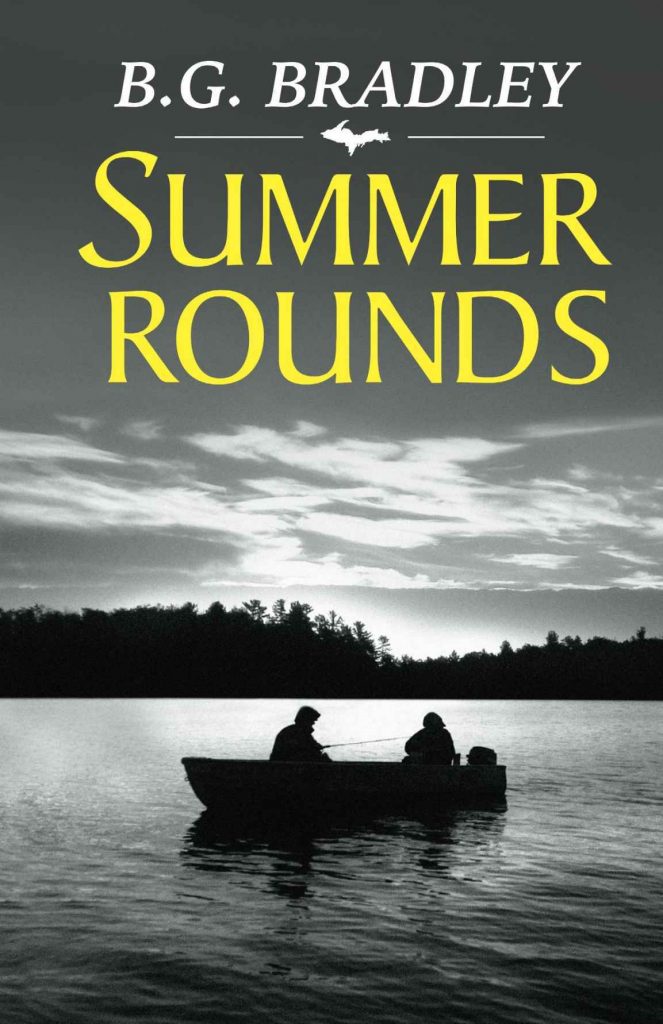 Dale Sylvanus has work to do.
Battle-tested ex-Marine, Dale Syvanus pulls double duty as the town handyman for the humble citizens of Hunter, Michigan…the quiet lake community situated in the heart of Michigan's rugged Upper Peninsula…and driving his wrecker around the back country roads and byways that surround Hunter Lake, helping stranded motorists.
But Dale's real work is at home, where his wife Carrie is not-so-patiently waiting for him to get his act together. His old drinking buddies–ironically referred to as "The Puppies" by the good folks of Hunter–have been taking up entirely too much of his time. It's been months since Carrie rightly showed him the door, and Dale knows he's got no one but himself to blame; but with the echoes of Afghanistan still shouting in his ears, Dale's escapes often come at the expense of those he loves.

Luckily for Dale, help comes in the form of an old free-spirited priest named Father Bill, who's no stranger to the hard life. Will his guidance be enough to help Dale find his redemption?
Great story about great, flawed characters in a beautiful setting. Bradley gives readers a taste of Yooper mentality and kindness that seems almost too good to be true (even though it totally is that good and true) and endeavors to smash several stereotypes faced by the natives of Michigan's Upper Peninsula. Good read!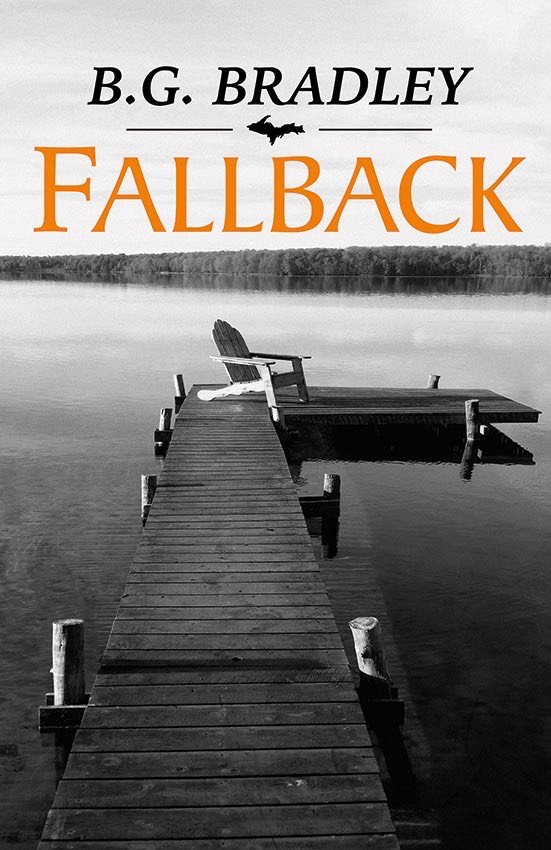 People who grow up in the U.P. often find a way to come back.
Fallback, the third installment of the Hunter Lake Book Series, chronicles the return of international lawyer Jake O'Brian to Hunter Lake. People who grow up in the U.P. often find a way to come back. Those who don't often daydream, as they gaze out city office windows, about pristine clear winter skies over cross country ski tracks on new crystalline snow, the colorful outbreak of fall, spring buds on the trees and the spectacular breakup of ice on inland lakes, or the long light and bright stars of summer over a campfire. So it's not surprising that international lawyer and home town golden boy Jake O'Brian has come back to Hunter. He's come back alone with a secret he doesn't fully fathom. It's doubtful he'll keep it long. After all Hunter is a small U.P. town, and his lovable, nosy sister Jen lives in it. So does his brother, the old poet and teacher Ben who can read Jake like a book, though the old curmudgeon would prefer and half believes this isn't so. What Ben and Jen know, what most of the town knows, is that old player Jake, who has starred on athletic fields in the field of law and in playing the field still has some growing up to do. And life, especially in the U.P. where living can be harsh and simple and thus you can't fool much of anyone about much of anything, has a way of causing maturity to happen. And though Jake has made his escape from his sophisticated life, his trophy wife Christy, who is pretty shiny herself, might have something to say or do about that. Return to your fictional U.P. hometown of Hunter near beautiful, mysterious Hunter Lake, and find out what Jake has to learn. Or come for a visit for the first time or the hundredth. All those wise, funny, deceptively astute home folks are waiting for you.
"We're very excited to keep this series rolling," said Bradley. "Jake's story sheds a new light on all the other characters and gives new insight into someone, you may come to appreciate more before the story is over."
Praise for Hunter Lake Book Series
On Bradley's Winter Heart :
From renowned Cajun poet Beverley Matherne,
author of Bayou des Acadiens/Blind River:
There's love in every sentence!
From Shelley Russell PHD, Drama Department, Northern Michigan University, author of Haywire, the Kennedy Center Award winning play concerning the logging era in Seney:
BG Bradley is that rare storyteller who seems to speak to each of us, secretive and universal, like a whisper against firelight.
In Winter Heart, Ben O'Brian survives the frozen wildlands of Michigan's Upper Peninsula because of a dog, a lake and a practical ghost. Bradley's telling of Ben's winding path across a frozen lake is unforgettable, his sense of place simultaneously harrowing and magical. The truth of nature feels absolutely alive on the page.
Lately, I've tired of contemporary writers who can't manage passion or wit, and settle for ridicule. There are no such judgements, no pretense, in Winter Heart. Instead, there is an impossibly romantic naturalist and a place of profound power and mystery, a bit of Thoreau with a keener sense of irony.
Bradley knows and loves this wild region, which might be the real main character in this warm, funny, frightening novel. I can't wait for the next visit, or perhaps I should say, visitation.
Like his beloved Upper Peninsula, Bradley's Winter Heart is gently personable, persuasive and funny, and rooted into steadfast rock underneath.
Winter Heart feels like a tale whispered close, near a fire, a story told with soft eyes over a shared cup of something with a good pedigree. It is also the saga of an idiot, who should die several times, but to whom a practical ghost must teach one final lesson. Bradley's gorgeous description of Ben's twisted path across a frozen lake is unforgettable, his words thawing a part of us that needs these characters and their coincidental world in our lives. Ben's story of first love, even when it comes around for the second time, is most of all, a love story to Michigan's Upper Peninsula, brought to life by Bradley's sure hand. Like the geography his main character knows so well, Bradley's story is gently insinuating and utterly familiar, until it turns alien, haunted, frozen and perilous.
From Tom Powers, Michigan in Books Review:
Bradley's dialogue enlivens the book. It snaps, crackles, and pops while often being humorous and always sharp as a filleting knife.
The author's sentences can be arresting. Thinking of his wife, Ben describes her in this glowing sentence: "My moonlight my rain."
It would be remiss to neglect the author's skills in describing both the human and natural landscape of the UP.
Scattered throughout the book are poems by Ben and instead of interrupting the story they serve as windows into the character and even soul of Ben. And I love Bradley's audacity as an author. He writes Ben's poems and then creates a new character who reads the poems and praises the poetry and its author. At the point at which this happens in the book, readers will be so wrapped up in the story it will take a minute to recognize the author's literary sleight of hand. 
From Arvid Nelson, created of the hit graphic novel series Rex Mundi and Zero Killer:
Winter Heart is one of those hauntingly earnest books that stays with you long after you've read the final chapter. Every place has a spirt—that's what I believe—and B.G. Bradley perfectly captures the spirit of the book's setting, the Upper Peninsula of Michigan.
I've never been to the U.P. But I know with certainty what life is like there now.
On Bradley's Summer Rounds
From U.P. Poet Laureate, Marty Achatz:
Writer B. G. Bradley, author of Winter Heart, takes us back to Hunter—a little town nestled in the belly of Michigan's Upper Peninsula—with his second novel, Summer Rounds.  In the spirit of Sherwood Anderson's Winesburg, Ohio,
Bradley takes up the story of Dale Sylvanus, a minor character from Winter Heart, and spins a narrative both heartrending and heart-mending.  An ex-Marine suffering from PTSD, Dale is the local Hunter handyman who everyone calls when something gets broken.  In Summer Rounds, Dale faces his biggest job ever—fixing his own broken marriage, family, and life.  B. G. Bradley imbues this story of redemption with humor and humanity and surprise.  He ambushes his readers with love, making Dale a character who restores faith in the goodness of people.  Do yourself a favor.  Take a trip to Hunter.  Make some new friends.  Don't be surprised if you never want to leave.
From Tom Powers, Michigan in Books Review:
It is always a pleasure to enter B. G. Bradley's literary world. It is peopled with unique and interesting characters facing pivotal moments in their lives.
And if I can't, on the spur of the moment, head across Big Mac and soak up the UP's ambiance, limitless beauty, and enjoy its laid-back lifestyle I can pick up one of the author's books and let him take me there.
Readers will quickly understand how the author simply couldn't stop listening to Dale because neither can they, and Dale will stay in their minds long after they turn the book's last page. Dale is a likable guy.
By the end of the book, readers know Dale Slyvanus as well as they know their next-door neighbor and good friend of twenty years. They will also wish there was a real Hunter, Michigan to visit. The inhabitants have become good friends who will be missed until the next book in the series makes its way to publication.
On Readings and Performances by B.G. Bradley and Under This Cold Sky (Steve Hooper)
From U.P. Poet Laureate, Marty Achatz:
Writer B. G. Bradley and musician Steven Hooper know how to make everyone feel like Yoopers.
Listening to Bradley spin his stories and poems is like sitting around a campfire with an old friend.  When Hooper picks up his guitar and starts singing, you can hear fish jumping in silver water, deer leaping over fallen logs. Together, they conjure up the Spirit of the North… An evening with these two artists is truly a love letter to the Upper Peninsula.